The conversion of methane into higher hydrocarbons, such as ethane or ethylene, is still a big challenge in the field of catalysis, mainly because the activation of methane is difficult due to its thermo-dynamical stability. Especially the efficiency of oxidative methane coupling is a major problem in currently available systems. Current methods achieve a high selectivity in the conversion of methane, but only a minor yield of higher alkanes, which are the primary goal of the conversion of methane.
The combined structures of the well-known fluidized bed and a membrane reactor that now are offered; make it possible to achieve a notable increase of the efficiency of the selective oxidative conversion for higher alkanes. First results: First experiments reached a methane conversion of 39 %, a selectivity of 56 % and a yield of 22 %, in contrast to common techniques with a methane conversion of 39 %, but a selectivity of only 37 % and a yield of just 14.5 %.
The fluidized-bed membrane reactor is suitable for oxidative coupling of methane catalysis and heterogeneous catalysis in the chemical industry.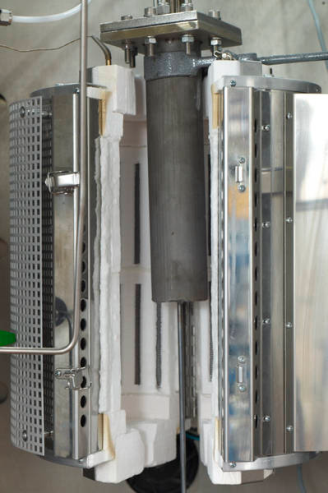 Fluidized-Bed Membrane Reactor according to the invention (TU Berlin, 2011)
Reactor design and membrane dosing avoid thermal afterburning
Fine distribution of oxygen ensures a selective process performance
Fluidized state of the catalyst bed enables a homogeneous and isothermal catalyst area
[...] further benefits online
Technology Readiness Level
Technology validated in relevant environment (TRL: 5)
approved: FR, GB, IT, DE
Technische Universität Berlin
R&D Cooperation
Patent Purchase
Licensing